Central Florida Adult Home Care Services
Because family members can't always be there, Guardian Angel Adult Care Services provides individuals with a safe and secure option to receive skilled nursing care and assistance with their day to day activities while remaining in the comfort of their own homes. We select ONLY the most compassionate and caring individuals to care for your loved ones. All caregivers hired are meticulously screened and trained, and are bonded and insured. This is done to insure that we provide high quality service and peace of mind.
Registered Nurses (R.N.'s), Licensed Practical Nurses (L.P.N.'s), Certified Nursing Assistants (C.N.A.'s), Home Health Aides (H.H.A.'s), and Homemakers & Companions are ready to provide loving care 
for you and your loved ones.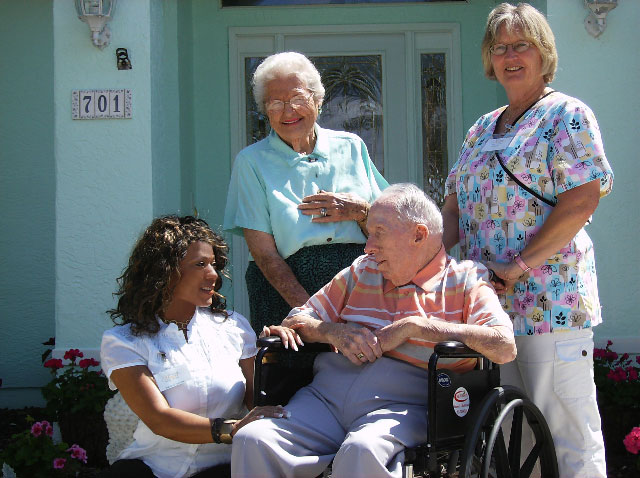 At Guardian Angel, we're committed to providing more than exceptional homecare for seniors and disabled persons in the Central Florida area. We are proud to offer, a unique senior homecare solution that we consider to be one of the greatest values in senior living today.
Whether you are permanently disabled, recovering from an illness, or are chronically or terminally ill, you can receive care from a Guardian Angel Care Provider in the comfort of your home. Guardian Angel will work with you and your Medical Provider to determine the care plan that is right for you. This includes assigning a Caregiver who will care for you at home, assist with your personal care and medications, as well as provide you with homemaker and companion services. We also offer health care instruction, assist with setting goals for your health, and monitor your progress.
Guardian Angel Adult Care Services is the premier full-service homecare provider in Central Florida.
Contact us today at (321) 633-9730. A professional Care Consultant will work with you to establish the best plan of home care for your loved one.
Agency For Health Care Administration – License# 30211549
Guardian Angel Senior Home Care Services
Assist with bathing

Assist with dressing

R.N. Visits

Skilled Care Services

Assist with medications

Light Housekeeping

Prepare Meals

Monitor diet and nutrition

Prepare Grocery Lists

Grocery Shopping

Accompany to lunch or dinner

Help with laundry & ironing

Make beds & change linens

Transportation to appoinments of any kind

Pickup prescriptions

Accompany to strolls in the park